Like Being There
an intensive workshop on
Mediated Presence
by
Michael Naimark
If you want to understand VR, AR, MR, XR, and the metaverse, you first need to understand mediated presence.
Today's excitement around VR, AR, MR, and the metaverse is deeply rooted in mediated presence, that "feeling that you're really there" with another person or in another place. It's related and complementary to gaming & avatars, narrative & storytelling, design & usability, and crypto & NFTs, but it's different.
You don't need an engineering degree to understand mediated presence.
Longtime VR/AR practitioner Michael Naimark believes that this defining quality can be understood in a technical yet accessible way. He developed VR/AR Fundamentals for NYU Shanghai in 2017 and refined it over four years. It was selected to be one of the first six China-wide NYU mini-courses launching this spring.
A unique approach: start with a peephole.
You will be walked through what it takes to, via media, trick our eyes and ears, trick our other senses, tap our input (and intentions), and be immersed in live events and with other people. Our approach is unique, and it's meant to compliment any and all other VR/AR courseware.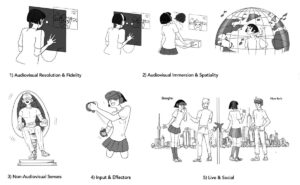 You will develop an "under the hood" understanding of big issues.
How "Hollywood" and "Silicon Valley" approach immersion differently.
When haptic "suggestion" is good enough.
Why some colors are poorly represented on displays.
When the difference between hologram and "hologram" matters.
Why "cartoonishness" is a divisive flashpoint for many.
When interactivity can be faked.
When less than 360 degree imagery may be good enough.
What's state of the art for virtual smell and virtual taste.
What's state of the art for mind as input and mind as output.
Why the tech giants are "racing to the ground (view)" in 3D Earth models.
You will have the vocabulary to share your ideas and ask the right questions.
3D, 3DOF, 4D, 6DOF, accommodation, air vortex rings, ambisonic, autostereo, binaural, camera zapping, CAVEs, Cinerama, Circle-Vision, convergence, conviviality, cycloramas, depth maps, directed attention, disparity, edge computing, EEG, effectors, electromyography, eye contact, fMRI, focus, foveation, fremitus, fusion, gaze correction, HDR, heart rate variability, HRTF, Imax, IMU, IPD, jutter, Kinoautomat, light fields, media Turing Test, micro-encapsulation, MoCap, monoscopic, motion interpolation, motion platforms, MR, multiscopic, neural radiance fields, optical imaging, orthoscopic, ortho-stereo, panoramas, parallax, Pepper's Ghost, phosphenes, photogrammetry, point clouds, Polyvision, redirected walking, remote viewing, resolution, rubber hand illusion, sensors, Showscan, SLAM, spatiality, stereophonic, stereoscopic, synaesthesia, ultrahaptics, varifocal, vection, vestibular, virtual production, volumetric video, waveguides, XR, and more.
You can do it in six hours (negotiably).
Like Being There is a six-hour intensive workshop designed to provide a holistic framework for understanding VR, AR, immersive environments, and mediated presence. It's made for general audiences, highly audiovisual with several hundred slides, and playfully participatory with lots of examples from art, research, industry, and history.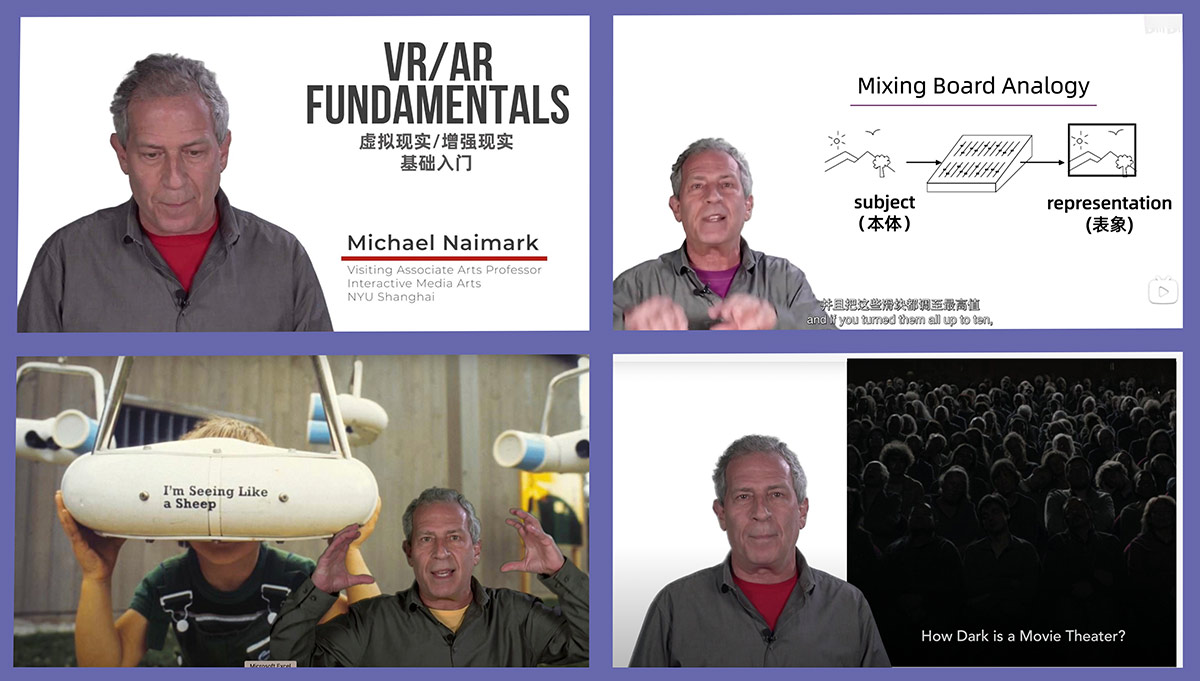 About Michael
Michael Naimark has worked in virtual reality and new media as a producer/consultant, inventor, professor, and artist for over four decades. He has consulted and directed projects with support from Apple, Disney, Microsoft, Atari, Panavision, Lucasfilm, and Paul Allen's Interval Research; and from National Geographic, UNESCO, the Rockefeller Foundation, NY MoMA, the Banff Centre, Ars Electronica, and the Paris Metro. He's listed as lead inventor on 16 issued patents relating to cameras, display, haptics, and live; and his work has been seen in nearly 400 art exhibitions, film festivals, and presentations around the world. Since 2009, Michael has held faculty positions at NYU's Interactive Telecommunications Program, USC Cinema's Interactive Media and Games Division, and the MIT Media Lab.
Since 2017, Michael has served as visiting faculty in Interactive Media Arts at NYU Shanghai, where he developed a VR/AR curriculum and directed research into live, online, tele-immersion, (which included a cheap simple hack for improving online classwork). Prior to that, in 2015-16, he was Google's first-ever VR resident artist. Michael's early work in projection mapping is listed "#3" in Wikipedia (after Disney and George Harrison). He's a founding editorial board member of Presence Journal (MIT Press) and a longtime advisor-at-large to ethnomusicologist Alan Lomax's Global Jukebox Project. His artwork is in the permanent collections of the Exploratorium, the Centre for Arts and Media (ZKM) in Karlsruhe, and the American Museum of the Moving Image in New York.
For Spring 2023, Michael will be teaching Designing XR Experiences at UC Berkeley.
Testimonials
After this course, I have a clearer idea of how such technology works and what I want to achieve through them.
Jun Z., Spring 2021
What I've learned from the classes has prepared me to understand the latest innovation better and faster.
Winny W., Fall 2020
It opened the VR/AR world for me and helped me build a holistic view of the current immersive experience industry.
Daisy C., Spring 2020
It's such a creative, bright, and foreseeing class to explore even during the pandemic!
Leah D., Spring 2020
A great blend of technical knowledge and artistic view, a well-structured introduction to an exciting field.
Guangyu W., Fall 2019
It was an eye-opening and educational experience. You get to not only see what VR/AR could achieve, but also start to understand how it is done. Great class!
Jack Z., Fall 2017
Contact
This workshop is available both online and in-person. It's optimized for two three-hour sessions for a class-size group of up to twenty participants, but can be customized as requested.
This workshop will enable you to thrive with your project. Please contact Michael via this form to get the knowledge and competence to become successful in your VR and AR work.